Our options
Cleaning is not your cup of tea? You don't want to bother with taking your sheets and towels? Wanna do a long sleep-in the day of your departure? Treat yourself with a little more comfort by subscribing to our different options.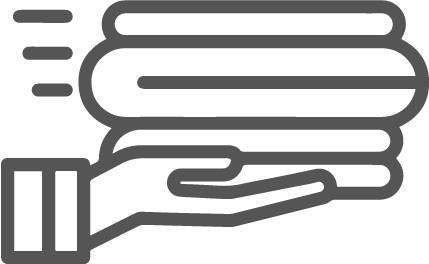 Bed sheets and towels
Bed sheets and towels are not included in your reservation. Remember: we rent apartments, we are not a hotel!  
You have the choice : 
- Either you bring your bed linen and towels with you
- Or you can rent those from us at the following rates:
11 € for a kit of single sheets
14 € for a kit of double sheets
Beds already prepared on your arrival, with sheets installed: price of sheets +10 €/bed
5 € for a large towel
8 € for a kit of towels (1 large and 2 smalls)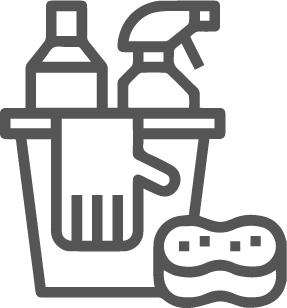 End-of-stay cleaning
At the end of your stay, the apartment must be returned in immaculate condition. But we know that on vacation, cleaning is not necessarily one of your favorite activities. We therefore suggest that we do it for you...
The price of the cleaning option depends on the size of your apartment. It is 60€ for apartments with less than 10 beds, 80€ for apartments with of 10 beds and more.
Please note: Even if you subscribe to the housekeeping option, you will need to perform the following tasks:
Clean the entire kitchen area (this is never included in a cleaning option)
Taking out the trash
Empty the dishwasher
Put clean, dried dishes in their place in the cupboards.
Put the blankets (well folded) and pillows back where you found them on your arrival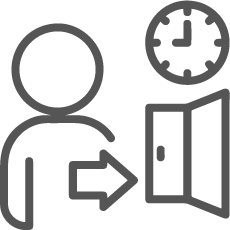 Arrival before 5 p.m. and/or departure after 10 a.m.
Check-in is from 5 p.m., check-out must be done before 10 a.m., et the latest.
If you want to enjoy the apartment longer, it is a priori possible (depending on availability). Here are the current rates:
If you wish to arrive earlier:
Arrival at 3 p.m.: 40 €
Arrival at 1 p.m.: 60 €
Arrival at 11 a.m.: 80€
Arrival at 9 a.m.: 100€
If you wish to leave later :
Departure at 12 p.m.:  40 €
Departure at 2 p.m.: 60 €
Departure at 4 p.m.: 80€
Departure at 6 p.m.: 100€
Why this supplement? Preparing a specific apartment in priority or having to do it later in the day sometimes causes us significant costs, since the cleaning team cannot gather all the apartments in the same residence and prepare them all at the same time. 
Please note : Even if you book and pay for early arrival or late departure, we may not be able to meet our commitment on the day. In the mountains, there are indeed very often imponderables during a ski season or even in summer: snowfall, repairs to be made in accommodation, other major unforeseen problems...
In this case, however, we will of course refund you the amount you have paid or the difference in amount if the apartment could not be occupied at the scheduled time.
If you have a problem storing your luggage during the day because of this setback, we are committed to finding a solution for you.
If you end up leaving earlier or arriving later than the scheduled time, there will be no refund for the hours you were unable to stay in your apartment.
How to subscribe to one of these options?
The choice of options you wish to add to your stay is made when paying for your reservation. All you have to do is add the desired options to your basket and pay the total amount.
Please note: some options cannot be booked at the time of your reservation. Just contact us by email once your reservation has been made and we will arrange it together.