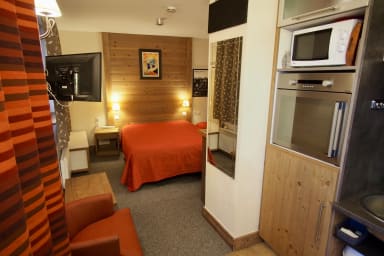 Modern studio in 4-star Residence Antarès. Enjoy big discounts on your ski passes and equipment ! Free cancelation until 14 days before arrival
Please read the entire description before booking and take a good look at all the pictures: we have included PDF files with important information.
---
ACCOMMODATION CAPACITY
This 28m² studio can accommodate up to 3 people but this will have an impact on your comfort.
We recommend you to be 2 people MAXIMUM if you wish to keep a minimum of personal space.
Some groups prefer to stay tighter, in order to stay together and pay less. In the end, it is up to you to decide what is the most important for you: comfort or conviviality ;)
---
ACCOMMODATION LAYOUT
The studio, located on the 4th floor of residence Antarès, is laid out as follows :
A large living room (it is therefore not a real bedroom) with a double bed and a single bed
A fully equipped kitchen
A bathroom with a shower and a toilet
A balcony with a superb view over the valley and the mountains
---
YOUR ADVANTAGES BY BOOKING WITH US
1/ Discounts in winter on your ski passes, ski equipment and ski lessons and in summer
Up to 30% discount on your ski passes
Up to 40% discount on your ski equipment
5% discount on your lessons with Ski Family
The promo codes to enjoy those incredible discounts will be sent to you right after your booking.
In summer: 20% off every rental made with Intersport (except on electric bikes)
2/ An apartment at the foot of the ski slopes
You can ski-in and ski-out: a connecting slope passes right in front of your residence. You can easily reach the ski area and the meeting point of ski lessons without having to carry your equipment.
3/ Free access to the swimming pool and the sauna in the Antarès residence
The swimming pool and the sauna are open everyday during the season from 10 am to 7 pm (except on Saturday, from 10 am to 6 pm)
The swimming pool and the sauna are closed outside the winter and summer seasons (it is your responsibility to check the opening and closing dates on the website of the Risoul tourist office)
The opening of this area can evolve at any time, following the measures of the french authorities in their fight against COVID.
4/ Fully equipped apartments with a lot of beds
You will stay in a modern and cosy apartment. Our accommodations in the Antarès residence are laid out in a practical and comfortable way. We have optimised the space to put many beds. Therefore making it possible for families or groups of friends to gather in one apartment, by desire to be all together or for financial reasons.
---
WHAT IS NOT INCLUDED IN THE PRICE OF YOUR BOOKING
1/ Bed linen and towels
The bed linen and towels are not included in your booking. You have the choice:
- Either you bring your own bed linen and towels
- Or you can rent those with us: 11 € per single sheet kit ; 14 € per double sheet kit ; 5 € for a large towel ; 8 € for a towel kit (one large and two small towels).
2/ End-of-stay cleaning
The end-of-stay cleaning is not included in your booking because we give you the choice:
- Either you take care of the cleaning by yourself, and you must then return the apartment in the same condition as you found it.
- Or you can subscribe, after your booking, to the end-of-stay cleaning option for 60€. Then you will just have to clean the kitchen area, take the trash out, put away all the dishes, empty the dishwasher and put back the pillows and blankets nicely folded where you found them.
3/ Early arrival before 5 pm and late departure after 10 am
The check-in is from 5 pm and the check-out must be done before 10 am, at the latest.
If you would like to stay longer, it is normally possible (if availability), but it is extra. Because those extensions of stay result sometimes in significant cost for us as the cleaning team cannot then clean all the apartments of the same residence at the same time. Here are the prices:
Arrival at 3 pm : 40€ ; Arrival at 1 pm : 60€ ; Arrival at 11 am : 80€ ; Arrival at 9 am : 100€

Departure at 12pm: 40€ ; Departure at 2 pm: 60€ ; Departure at 4 pm: 80€ ; Departure at 6 pm: 100€
---
EQUIPMENT OF YOUR APARTMENT
Free WIFI
Blankets, pillows and mattress cover on every bed. Reminder: you have to bring your own bed linens or rent some on site!
Many storage units, plugs and light spots
Fully equipped kitchen: dishwasher, oven, microwave oven, coffee machine with filters, a kettle, a raclette/pierrade machine, fondue machine, a toaster, a mixer and a juicer. But also plenty of dishes, glasses (wine, champagne, beer and water glasses), cutlery sets, pots, pans...
Everything you need to clean the apartment: cleaning products, anti-limestone, deodorizer, sponges, dishwashing liquid and pods...
Flat screen TV
Bluetooth music station (don't forget to bring your Jack-Jack cable)
Your personal ski locker at level 0 of the residence
Everything is made to make your stay the easiest and most enjoyable possible.
---
ANTARÈS RESIDENCE
4-star residence, very well maintained, one of the most recent and comfortable in Risoul 1850
Very well located, close to the first shops (only opened during winter and summer seasons): grocery store, ski shop, bars and restaurants...
5 min away from the center of the resort
Swimming pool and sauna: only opened during the winter and summer seasons (check the tourist office website for the opening and closing dates of the resort)
3 lifts
Free WIFI in the whole residence
Ski-in/ski-out : a connecting slope passes right in front of the residence and will lead you to the snow front and the meeting point of the ski classes
---
ACCESS
The entire check-in/check-out procedure is automatic. Keys are in a keybox just in front of your residence. You can therefore arrive whenever you want after 5 pm.
Check-out must be done before 10 am, at the latest.
---
IMPORTANT INFORMATION
1/ Deposit of 300€ to be secured BEFORE your arrival
A deposit of 300€ must be secured by credit card before your arrival. The operation is carried out via the online deposit service Swikly, leader on the market.
The procedure is fast and simple: you will receive an email with a link to follow, 7 days before your arrival.
The amount of €300 is not debited from your card, nor even blocked. This is a simple check that you have this amount in your bank account. Your bank limit is therefore not impacted. You are also better protected: Swikly manages your deposit and any debit, if it were to take place, must be justified on our part with photos, invoices, etc.
There is a service charge of €6.78 supported by our guests, for whom Swikly is much preferable to a deposit in cash, or even taken on a credit card. Please note that we also pay fees to Swikly on our side.
There is no other way to secure the deposit: neither cash, nor check, nor bank transfer, because it is the securing of your deposit on Swikly that will automatically generate the code to get your keys. It is very efficient, you will see :)
2/ Check-in and check-out inventory
To facilitate your arrival and departure, the check-in and check-out inventory is done by yourself, by means of pictures and comments. The procedure, which will be explained to you later, is done via Swikly, for more transparency and fairness between the parties. It is simple and easy to use, you will see.
3/ Parking spaces
The residence does not have a private parking lot, but there are numerous free parking places very close to the residence. And a covered paid parking at the center of the resort. In high season, it can be a bit tough to find a parking spot.
4/ No breakfast available
We rent apartments, we are not a hotel.
5/ No cots available
You will need to bring your own, or find an alternative. Please note that the accommodations are not supposed to host an extra bed. The space can be very limited, especially if you stay with many people in the apartment.
6/ Pets allowed
Pets are allowed, free of charge. However, they remain under the responsibility of their master.
7/ Large groups
Do not hesitate to contact us ! It is indeed possible to combine this apartment with one or more other apartments located in the same residence.
---
OFF SEASON
Our apartments are available 365 days a year, even when the resort is closed. We welcome nature lovers and workers in all seasons.
Outside the winter and summer seasons, the residence's swimming pool and sauna are closed.
Off season, shops and restaurants are also all closed. Just do your shopping in the valley before going up to Risoul and you will be independent.
It is best to contact the Risoul tourist office for exact information on possible activities, available services, etc.
---
CANCELLATION POLICY
You may cancel free of charge until 14 days before arrival. You will be charged the total price of the reservation if you cancel in the 14 days before arrival.
At the time of your booking, You will be charged a payment of the total price of your stay (taxes included). In case of a cancellation more than 14 days before arrival, the money will be refunded to you in 15 days.
+ More
Less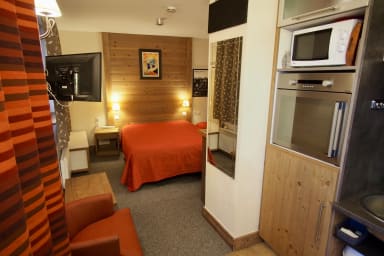 Piscine - Ouverte du 7 juillet au 29 août 2018 et en saison hivernale
Sauna - Ouvert du 7 juillet au 29 août 2018 et en saison hivernale
Couloir dans la résidence
The Space
Accommodates: 2-3
Studio
Bathrooms: 1
Property Type: Studio
Check-in: 17:00
Check-out: 10:00
---
Amenities
Contactless check-in and check-out

Long Term Rentals Available

Suitable for children (2+ years old)

Suitable for infants (under 2 years)

Information about property sustainability

Sustainability projects support

Wide clearance to shower and toilet
This place would love your review
Small budget ? Book from Sunday to Friday!
During the winter season, weekday nights from Sunday to Friday are cheaper than weekend nights from Friday to Sunday.
Stays possible from one night!
Whether for vacation or a business trip, reservations are possible with us from one night, even on weekends!
Accommodation for large groups
Groups and families for whom staying together is more important than comfort can book our large apartments with up to 13 and even 15 beds!
Pets Allowed
Your favorite pet can stay with you, free of charge. RisoulSki do not ask any extra fee for that.